Rentce's content, forms, and guides are free and supported by our audience. When you purchase through links on our site, we may earn an affiliate commission.
If you are looking to remodel your kitchen on a budget, here are 10 affordable ideas for doing so. From countertops and cabinets to appliances and lighting, these low-cost kitchen renovation ideas will give your kitchen a total makeover without breaking the bank.
1. Update Your Countertops
If you're limited in funds but want an affordable way to update your kitchen's appearance, updating the countertops is a great place to start! New countertops can give you that "new" feeling without cleaning up your bank account. There are many affordable options available nowadays with prices starting as low as $500.
There are two ways you can get a great look on a budget:
Use Insta Granite Countertop Self-Adhesive Vinyl Laminate. A roll of 144 inches costs less than 100 dollars on Amazon, a fraction of the price of real granite or marble.  This vinyl is easy to apply for do-it-yourselfers and it will give your kitchen an instant makeover.
Buy new laminate countertops from Home Depot and cut them to size. A brand new  4 feet granite-look countertop costs less than 60 dollars. If you have a good saw and know how to cut laminate without chipping it, it's a great option, especially for a rental.
2. Paint your Cabinets 
Painting your cabinets is one of the easiest affordable kitchen renovation ideas and can be done in a weekend! Paint prices are between $60-$75 per gallon. The secret to a good painting job is sanding and priming the cabinets well. The painting part is easy.
Sherwin Williams has a really good paint for cabinets, it's called Emerald Urethane Trim Enamel. Below is a before and after, the paint we used was Sherwin Williams. By the way, the remodel below was done with $650. It was a DIY job so no labor cost is included.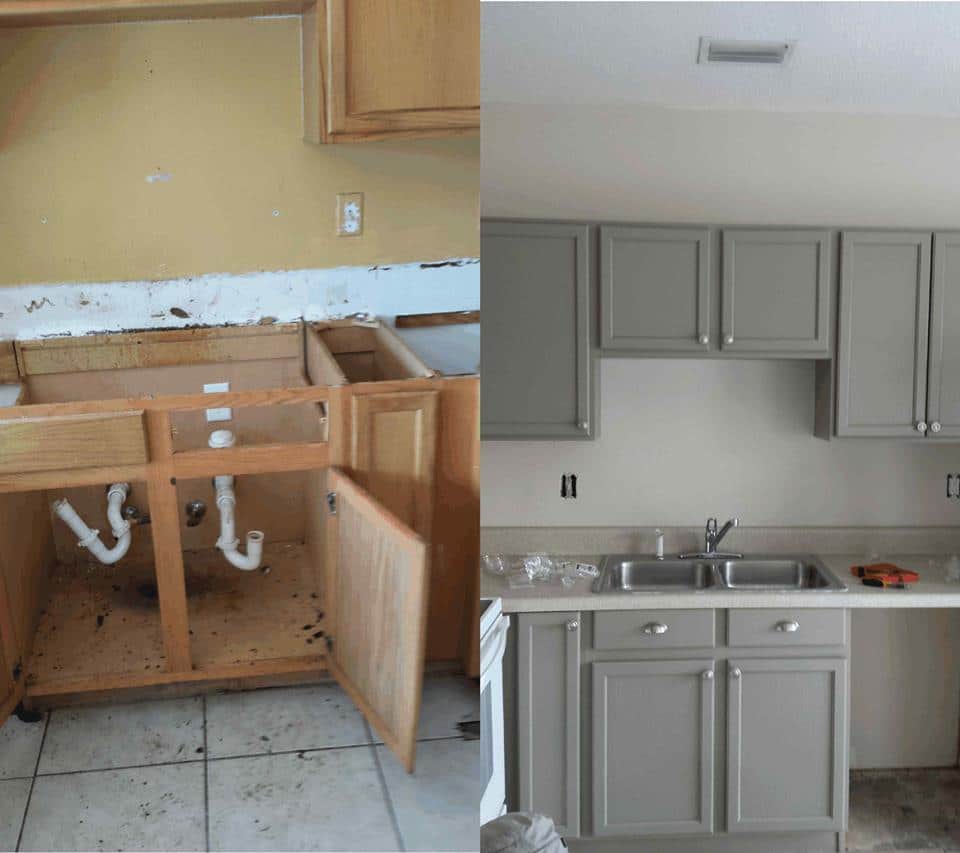 3. Upgrade Your Appliances 
While appliances are often the last thought when budgeting for a kitchen renovation, they can be one of your most affordable options. There are affordable appliance packages available now with prices starting as low as $400! For example, the stove in the photo above, we bought from Lowes, for $290. It was slightly damaged on the side where no one can see it. You can find floor models and returns if visit your local Lowe and Home Depot. Sears also sells slightly damaged or returned brand-new appliances. What's great is that these appliances come with the standard manufacturer's warranty.
4.   Add Some Color 
When you're limited on funds, color can be one of your best affordable options for a kitchen renovation. There are many affordable products available that will allow you to add some flair without breaking the bank! From paint and wallpaper to accessories like rugs and curtains, these affordable kitchen remodeling ideas make it easy to give your kitchen a makeover. 
A new trend is accent walls that can be done with wallpaper. It looks great and is easily removable. It's really an easy way to jazz up your tired walls. The key is to use the wallpaper as an accent on one wall. If you are upgrading a rental, patterns like shiplap or stone are good choices.
5.   Light It Up 
Lighting can transform a space and is one of the best affordable ways to update your kitchen. There are economical lighting options available now with prices starting as low as $40! Swap out those old light fixtures for something new that will make you feel like cooking again.
Add under the cabinets lights for a more affordable update. Consider adding pendant lights over an island or over a breakfast bar.
6.   Update Your Fixtures
If you're looking to give your sink a makeover too, change the faucet. It instantly gives your kitchen a fresh new look. A good faucet will make it feel like you have a brand-new sink and is an affordable way to update the entire feeling of your space. These three choices are available on Amazon from $40.
7.   Add a Backsplash
If you're looking for affordable kitchen renovation ideas, adding a backsplash is the perfect solution. A splash of color and pattern can change up your whole look! There are affordable options available with prices starting as low as $32 depending on what type of material you choose. A budget choice that looks as good as tile is peel and stick tile backsplash.
8.   Update the Flooring
 In addition to updating your cabinets and appliances, affordable flooring options are available now with prices starting as low as $2 per square foot. Low on funds, repurpose an old rug.
9.  Change the Hardware
Knobs and pulls can quickly update your kitchen cabinets.  Visit a local home improvement store to see what they have, or hit up garage sales for affordable finds.
10. Replace Some of the Upper Kitchen Cabinets with Open Shelves
Affordable kitchen renovation ideas that allow you to incorporate affordable open shelving are a great way to update your space. You can place items on the shelves, or use them as display cabinets for beautiful dinnerware and glassware. 
Don't go overboard with this especially for a rental.
These affordable kitchen ideas are easy to do yourself and most can be done in a weekend.  Your kitchen will look brand new without a major renovation.