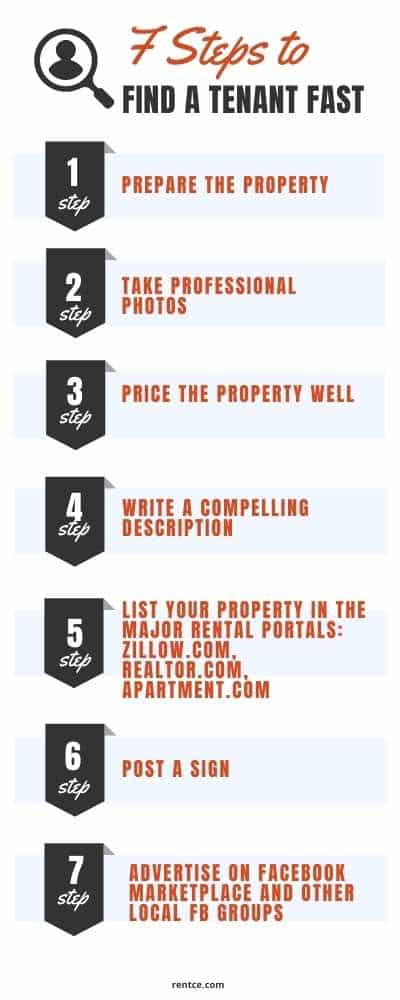 Seven Steps to Find a Good Tenants Fast
Once your property is ready, the applications will start flowing in, right?
Nope. You have to tell the world about your available rental. In other words, you have to do some marketing.
Finding and screening tenants are the most time-consuming parts of property management. In this section, we'll lay out the steps you need to get high-quality tenants interested in your property.
Here are the seven steps to find qualified tenants quickly.
Prepare the Property for Rent
This is the most important thing you can do to get a good tenant fast at the maximum rental price. I wrote a separate article about this so I will not spend too much time explaining it here but the essence of it is:
Professionally clean the entire house including windows and exterior.
Paint with neutral paint or do touch ups.
Repair everything that's broken.
Landscape
Invest in Professional Photos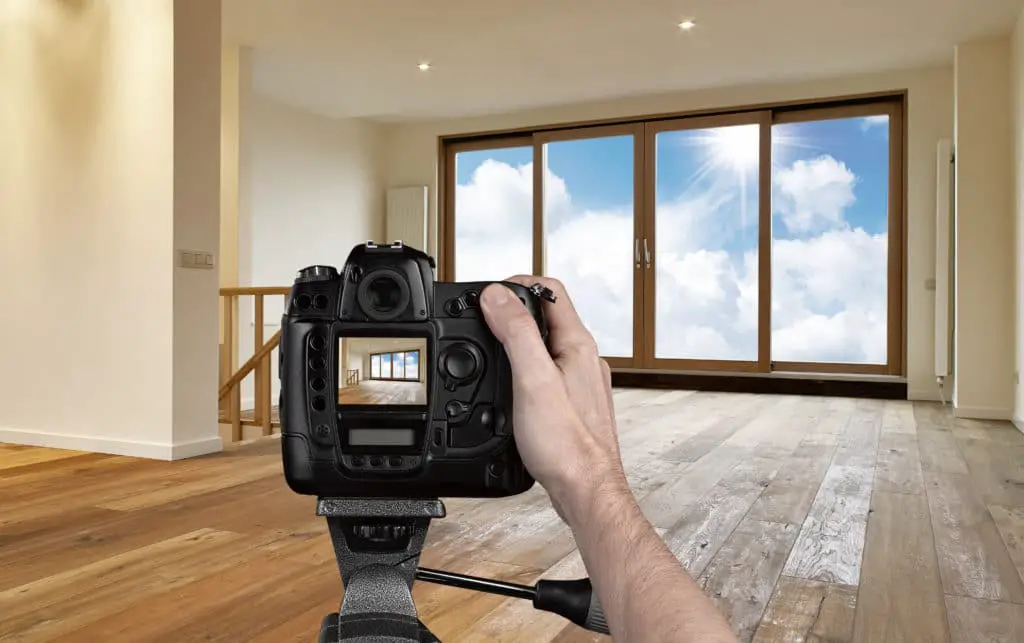 Potential tenants judge a property based on visuals way before they ever step inside your door. For high-quality tenants, you'll need to invest in nice, professional property photos.
No, cell phone pictures are not professional enough. In fact, any picture you take yourself (unless you're a professional photographer)
will not be good enough.
Photographers use professional-grade equipment and special lenses to deliver a more polished result. They know how to use the light, how to apply filters, how to use composition, exposure, and depth, and countless other photography trade secrets.
Some photographers now create video walk-throughs or aerial shots. Will that make your listing stand out? You bet!
Investing in a photographer is relatively inexpensive. Professional photos will cost somewhere between $100 and $200, but you can use them over and over again, each time you look for new tenants.
If you do decide to ignore my advice and take your own photos, at least invest in a wide lens for your camera. It makes all properties look bigger and better.
Determine the Correct Rental Price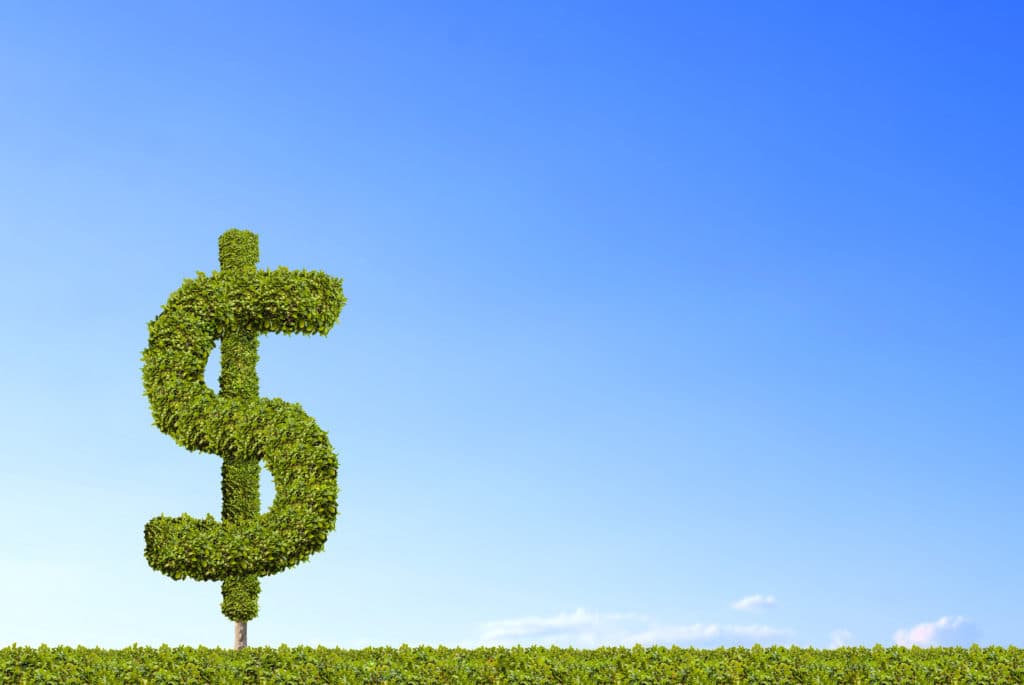 Most landlords have no idea how to price their rental property correctly. Too often they err on the high end because they calculate the amount they need to cover the mortgage and other expenses. This is a problem because too high prices make signing good tenants difficult and lead to long vacancies. Long vacancies = no $.
No clue on pricing? Don't guess! Here are some suggestions:
Ask your local property manager. The best approach is to call local property managers and ask about pricing.
View active rental listings on property management websites Zillow, Trulia, and Realtor.com. Experienced property managers know what similar properties will rent for. These sites are great for checking out the competition.
When you look at comparable properties on Zillow and other sites, keep in mind that these properties are only listed and not rented.  Compare your rental with similarly sized properties (within 200 sq.ft.), the same number of bedrooms and baths.  Pools, privacy fences, screened patios in some areas can increase the price quite a bit. 
If you price your rental property correctly,  you will attract the right tenants. 
Write a Compelling Description
Why would a tenant like to live in your property? The purpose of a compelling description is to communicate this to tenants. You want to raise enough interest so that they will visit your property or submit an application.
1. Write a catchy headline. Try this formula: Price, Bedrooms, Additional Living Space, Square Footage, plus one or two features that will differentiate your listing from the rest
For example:
$2400, 4 Bed / 2 Bath / 2 Garage plus DEN, 2000 sq.ft. Home in South Tampa, Fenced, Pets OK.
Feeling squeezed in? $1800, 5BRs, 3000 sq.ft. home for rent in Riverview.
Yes, you can be more creative. The goal is to get noticed.
2. Open with the most appealing features. What sets your property apart from similar listings? To grab a tenant's attention quickly, include the most appealing features at the
beginning of the description. Choose 2 descriptive adjectives to add to your best feature: Charming, Beautiful, Cozy, Warm, Intimate, Spacious, Good for Entertaining, Modern, Freshly Renovated, for example.
3.  Add other info about your listing later in the description, such as rent, fees, lease terms, physical details, neighborhood information, amenities, and special features. (A full checklist is included later in this section.)
4. Tell what the next step is. Is there an upcoming open house? Can he or she book a showing? How do they send in an application?
Make it easy for an interested person to take the next step. Don't forget to include your name and contact information.
Remember to emphasize how you're different and include it in your title and description. Do you accept large pets? Is there a place to park a boat? What makes your rental different could be its price, physical condition, amenities, pet tolerance, length of the lease, upfront money required, security deposit, or location.
Description DON'TS
• Don't use abbreviations and terms
that no one outside of Florida
understands like CDD for
"community development
district."
• Don't repeat the headline in the
description.
• Don't advertise the obvious. A
4,000 square foot home is huge.
Is there anything else that makes
it stand out from competitors?
• Don't start with a higher price
thinking that you can adjust down.
Once the ad loses its newness
and excitement, it's hard to
resurrect it.
Listing Checklist
Physical Details
Square footage
Property photos, including a floor plan
Number of bedrooms and bathrooms
Garage
Neighborhood Info
Shopping centers
Nearby bus stops
Restaurants
Schools
Parks
Places of Worship
Special Features
Hardwood floors
Nearby bus stops
Recent upgrades
Private pool
Private boat dock
Rent, Fees & Lease Terms
Asking rent
Application fee
Security deposit
Nonrefundable fees (like for professional cleaning)
Length of lease term
Pet Policy
Amenities
In-unit or on-site laundry
Security
Outdoor space
Storage space
Covered/assigned parking (including fees)
Shared amenities (pool, fitness center, laundry, etc.)
Keep It Legal: Fair Housing
Laws
It's all too easy for a listing to be considered discriminatory—even if it wasn't intended—according to federal or state Fair Housing Laws. In fact, most landlords are not even aware that they are, by law, discriminating.
The Fair Housing Act (FHA) (42 U.S. Code §§ 3601-3619 and 3631) is designed to ensure that all potential prospects are treated equally. Landlords cannot discriminate based on race, religion, nationality, gender, age, familial status, or physical or mental disability.
"I don't want any children in my property."
"Can you mention that the neighborhood will be great for a Christian family because the church is just around the corner?"
"I really prefer married people because they tend to stay longer."
These are examples of statements I often hear from homeowners. Despite the innocent intent, under the law, these are discriminatory statements. The best way to stay on the right side of the law is to describe the property NOT the people.
Where to List Online
List in the MLS. The Multiple Listing Service (MLS) is a service that all realtors use. You have to be a member to use the MLS directly, or you can use a company that offers flat fee listing. There are many different options in each state.
This is how it works: You sign an agreement saying you will pay any realtor that brings you a signed tenant. The compensation varies from $200 to $800 (or more for more expensive homes) plus the flat fee for the listing which is usually $100.
It's a very low risk because you don't pay anything upfront or if you find a tenant on your own. We highly recommend this because realtors usually bring qualified tenants, and there's little to no risk for the homeowner.
Hire a Property Manager to lease your rental. The benefit is that they will list it in the MLS, show the property, pay the cooperating agents and screen the tenants.  The fee for that is usually one month rent. I will advise you to hire a property manager and not just any real estate agent.
Free online listing sites like Zillow, Trulia, Hotpads, and Craigslist give you the power to advertise your rental for free. For sites like Zillow and Hotpads, you'll only need to create your listing once. Listings are automatically distributed to other top rental sites.
Here is a List of Rental Websites listed in order of their popularity and traffic.
Is your property near a military base?  If so, list your property in AHRN, a website connecting the military with local housing.
Make it easy for potential tenants to find your rental.
Post a Sign
Yard signs may seem old-fashioned but I find that the neighbors will tell their friends and sometimes tenants want to move in the same neighborhood. Don't rely on yard signs alone but use them as extra marketing. The more applicants you attract the more choices you will have to pick a good one.
Reach More Tenants with Social Media
Social media is a great way to reach a wider audience with little effort and cost. Facebook ads are really helpful because you can target people physically located near a property using the city or zip code. Facebook is relatively inexpensive, and it's easy to reach a lot of potential tenants. 
For a private landlord, I would recommend just listing it on your personal Facebook page. Even if you find a tenant that's a friend, apply the same screening you would to other tenants. Ask your friend to share your listing, they will be happy to help. 
Be Available!
It doesn't matter how many phone calls, emails, or applications roll in if you aren't available. So answer your phone, check your email, and make yourself reachable!
If you're super busy, consider hosting open houses to show properties to multiple tenants at once. This is an effective use of your time, and it creates competition between the tenants and can encourage them to put in an application sooner. 
Most modern property managers use software and a lockbox that allows tenants to look at the property at their own convenience. If you are a landlord with less than 5 properties, I recommend Codebox and for more properties Rently.
I highly recommend that not only because it saves time but also because it makes visiting your rental easy and stress-free. Some tenants may be in town only for a day or two and if you are not available to show, they will not see your rental.  Check our Resource page for more info on the software and lockboxes available.