Have you noticed how some houses are inviting and create a good feeling the first time you see them? Sometimes these homes are not huge or spectacular but they look attractive and homey. That's curb appeal.
There are certain things you can do to improve the curb appeal of your own property and the fix and flip you are rehabing.
Below are 10 easy and budget friendly ideas that we implement almost every time we remodel a home.
1. Clean and/or Resurface Sidewalk/Driveway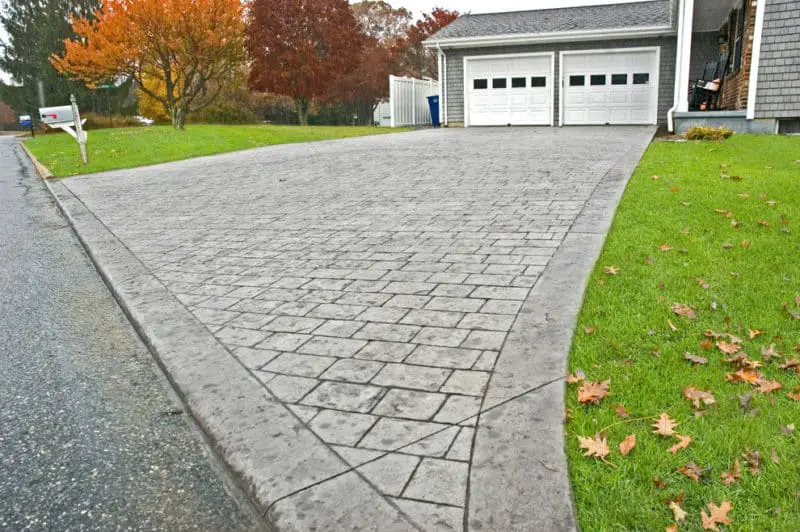 Selling your house or doing rehab? Don't neglect the driveway and the sidewalks. In real estate photos and in person, the driveway is the first thing people see, so making it look good will make or break the curb appeal of your property.
If you don't have a budget for anything else, pressure wash first. If you are doing it yourself get a pressure washer surface cleaners, it will save you time and it will help you avoid the ugly streaks that normally result from just using only the wand with a spray nozzle.
Unfortunately, concrete driveways crack, they get oil stains and pressure washing is just not enough to make them look good. 
One option that's easy on the pocketbook is resurfacing with NewCrete by Rapid Set Cement or Sacrete Flo-Coat. Rumor has it that you can do exactly the same thing with Portland cement. 
Another more expensive but better-looking way to rejuvenate old and tired concrete driveway is stamped concrete (check Amazon for available forms and stamps).  Although hiring a professional can get expensive, $8 to $12 per square foot for labor and material. If you are handy, we would definitely recommend it.
If you live in a deed-restricted community with HOA, get permission first. 
2. Front Entry/Porch
Sometimes you don't need to look further than the front porch to find an improvement that will bring the most bang for your buck. 
Look critically at steps, railings, posts, eaves. Is the porch well-proportioned? Are the steps and landing wide enough.
Below is an example of before and after done on a budget. The result looks impressive. By just painting the house red (the color is Sherman Williams "Bolero"), adding some architectural details, and restoring the original porch, this new curb appeal will pay off in spades when it comes to resale value.
Below is the before photo of the farmhouse, remodeled by Van Cleave Architecture and Design.
3. Window Boxes and Hanging Planters
Window boxes are another inexpensive and lovely addition to the front of the house. When choosing plants and colors, consider contrast as well as complements. The dark red geraniums below are the perfect contrast for this light color home. 
4. Lawn and Flower Beds
I am always surprised when fixer-uppers do a complete rehab and forget about the landscaping. When it comes to curb appeal the landscaping as important as the interior of the home. 
If the budget is really tight, trimming the bushes, cutting and edging the lawn and mulching is the minimum that should be done.
The right landscaping can increase the value of the home by 15% or more.
4. Window Shutters
Details can make the difference between drab and boring and bright and lovely. Make sure the style of the shutters you chose matches the architectural style of the house. The size should at least appear to be able to cover the windows. Check prices on Amazon
5. Front Door Paint
Painting the front door is such an easy way to add color to the house that we always do it even if our budget is low. Personally, I like contrasting colors but the choice depends on the style of the house. How cute is the orange-red door below? I like how it picks up the color from the flower beds. Your eye travel through the landscaping and ends up at the front door.
6. Front Door Hardware
The front door hardware is the jewelry of the house. The home looks good without it but feel that something is missing.
If you are remodeling a rental or a high-end property, this may be your chance to include some high tech locks that will make your job as a landlord much easier. If you are selling it, security is a high priority these days. Wow, your buyers or someone else will.
7. Lights – Coach Lights and Front Entrance
Add style and security by updating old coach lights and entrance lights.If they are properly sized for the house, painting them is great way to make them look brand new.
8. House Numbers
This front structure and the house numbers make this otherwise unremarkable house extra special. Small details like this increase the curb appeal without costing much.
9. Mailboxes
Paint or replace your mailbox because that's the first thing buyers see when they walk towards your house. Dirty faded mailbox makes them think there is more neglect inside. This fix is super easy and cheap.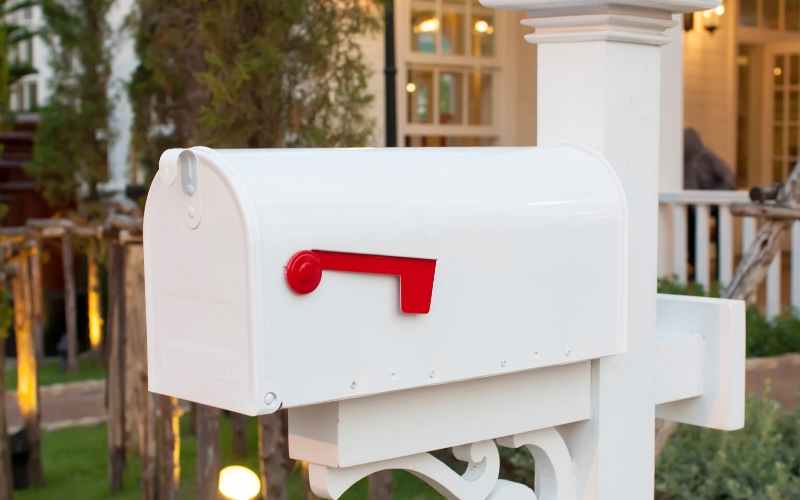 10. Welcome Mat
I guess nothing says "Welcome" like a welcome doormat. Keep it simple and get the right size for your front door. Check Amazon for prices.
This content may contain affiliate links to products, software and services, which may result in my earning commissions and fees.