Understanding the Foreclosure Process in Florida
To learn how to buy foreclosure properties we need to understand the foreclosure process. What happens when a property owner is late on their mortgage? How and when the lender takes back the property?
In Florida, the foreclosure process typically has three stages.
Pre-foreclosure
Mortgage foreclosure – court auction
REO- Real Estate Owned properties
1. Pre Foreclosure
At this stage a property owner has three options: negotiate a loan modification with his lender, walk away, or sell the property.
If the owner doesn't sell the property or modify the loan, his lender files a lawsuit to foreclose on the mortgage.
2. Court Auction
If the lender wins the lawsuit, a final judgment is issued and the property is sold at auction at the courthouse. When we bought our first foreclosed property, the auctions in Hillsborough county were conducted in the courthouse.
Today, this process is done online.
3. REO – Real Estate Owned Property
If a lender takes back the property it becomes REO, real estate owned.
Government agencies, like HUD, Fannie Mae, and VA also end up owning foreclosed homes because they guarantee many loans.
---
How can an investor buy a property at each phase of the foreclosure process?
Buying Pre Foreclosures
At this stage, the property belongs to the owner. The bank can't sell it even if it wants to.
If the owner has enough equity in the property to sell it and pay all closing costs, an investor can simply make an offer and if accepted, close the deal.
However, if the owner doesn't have enough equity to sell, the bank has to agree to receive less than it's owed for the sale to happen. This process is also called Short Sale.
In 2008 and 2009, the majority of sales were either short sales or REOs.
The reason a property owner would agree to do a short sale is to avoid having a foreclosure on their record which would prevent them to buy a property for at least three years.
The bank wants to do a short sale because it doesn't like to own properties, that's not their business. Accepting a short sale is less expensive than having to foreclose, pay attorneys, brokers, court costs, and carrying and maintenance costs.
Here is the typical short sale approval process.
The process normally starts with an offer from a buyer.
The seller requests a short sale package from the bank, fills out the required documents, and submits it to the bank. The sellers must prove that they have a hardship and that they can't afford to continue to pay the mortgage. This process is like getting a loan in reverse.
After the bank receives the file, it assigns a negotiator. How long this process takes depends on the bank and how many files they have to process. It can take from 30 days to a couple of months.
Next, the lender will order a Broker Price Opinion (BPO) on the property, which is like an appraisal done by a real estate broker.
Finally, they will either approve or deny the sale.
Short sales are a good way to get a deal especially in a down market but they do require a lot of patience.
How to find Lis Pendens and how to make offers?
Lis Pendens are recorded in the Courthouse. If you don't want to pay for a list you can simply look up all the new filings and do some research.
Search for Mortgage Foreclosure, Homestead, or Nonhomestead.
Some services will sell you a list. One I can recommend in Hillsborough County is Foreclosure Disclosure.
This is not my favorite way to buy a discount because many of the sellers eventually negotiate with the lender or simply live in the property for free until it's foreclosed.
---
Buying at the Courthouse
This is my favorite way to buy a deal.
Why? Three reasons:
It's fast. 10 Days to close.
No marketing required.
No competition from retail buyers, few people have thousands to pay for a property. It requires knowledge to know what you are bidding on.
Tampa Bay Tribune recently published a story about an investor who bid and won a waterfront condo without doing proper research. It turned out that the condo had an outstanding first mortgage.
"The first time I do this, it blows up in my face," Erickson, 53, said of his foray into foreclosure auctions. "It's devastating, it's life-changing. As far as any thought of retirement, that's out the window."
Unfortunately, some liens are wiped out in the foreclosure process but others remain.
What makes buying at the auction scary for others, make it also a great way to buy investment properties at discount without the hassle and expense of pursuing pre-foreclosures.
The negatives:
You can pay cash only. Although there is a way you can do this if you don't have that much cash
Certificate of title, no clear title.
Can't inspect the property inside.
---
What kind of deals can you get?
In 2010 we were getting properties at 50-60% of the retail price. The photo above is one of the properties we bought for $80,000 and sold for $155,000, repairs were less than $10,000. Today you can still find deals but they are not as abundant.
I am writing this post in May 2020, most auctions are currently canceled but this will change. I think we will see an increase in foreclosed homes next year. It will take time for this to happen but it will happen.
But even at the beginning of this year, I see properties selling at 59-70%.
If you are buying to resell you have to be more conservative but for a rental that you will hold for a long time, you can afford to outbid the rest.
---
What do you need to know? Rules and Process
First, most auction sales are held online.
To start bidding you need to register online and deposit in the Court House an amount equal to 5% of your final bid. Of course, you wouldn't know what that is but you can make a rough guess and deposit slightly more. The court holds this money in a trust account and when you win an auction they apply 5% towards the balance.
If you want to start bidding, you can send a cashier's check or wire to the Clerk of Circuit Court in the county where you will be bidding.
Below are links to online Florida Court Auctions.
Hillsborough County Foreclosures
Indian River County Foreclosures
Saint Johns County Foreclosures
Santa Rosa County Foreclosures
After you win an auction you have until next day 11 am, to deposit the balance, documentary stamps (70 cents on each $100), court registry fees (3% of the first $500 and 1.5% for each additional $100) in cash or certified check.
If the balance is not paid the bidder loses the deposit.
After full payment is made, the owner of the property has 10 days to object to the sale of the property, this rarely happens but it can happen so don't start any repairs before you receive the Certificate of Title.
After you receive the Certificate of Title the property is yours.
If you want to learn more, I will be holding a live online class on how to buy homes at the courthouse auctions on July 15, 11 a.m.-12 p.m. You will learn how to research the title, evaluate property conditions without going inside, how to bid, and how to find cash to purchase foreclosures. Sign up here.
---
REO – Real Estate Owned Homes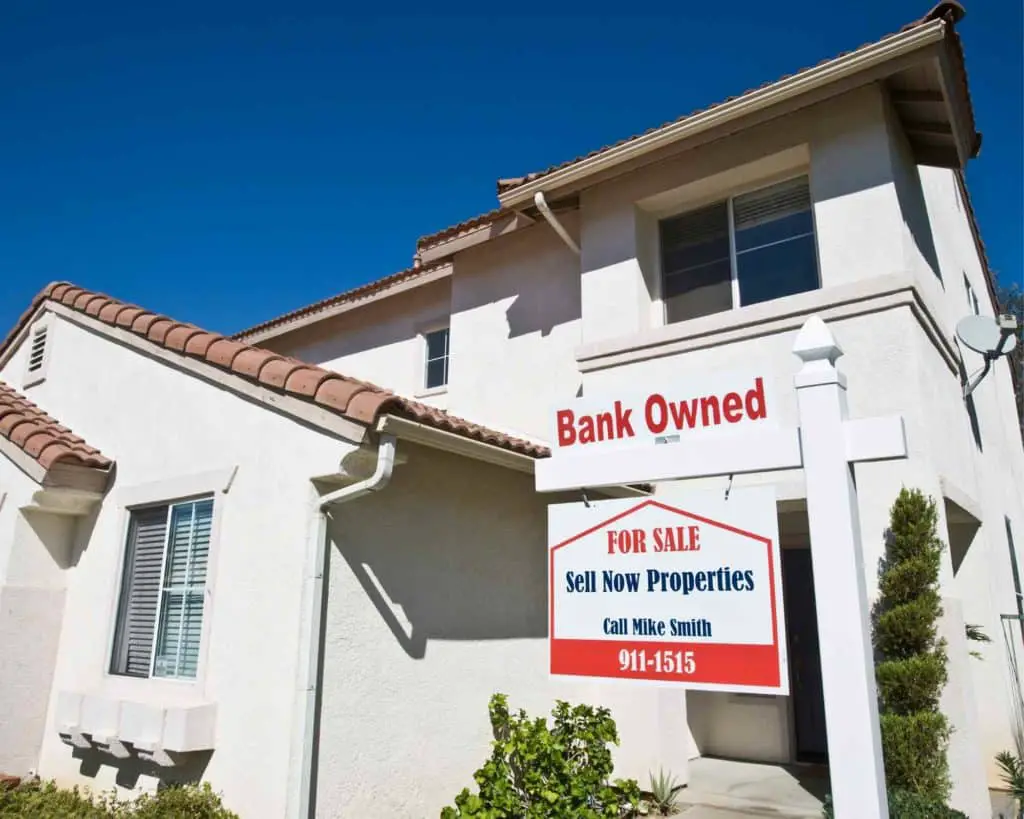 The benefit of buying at this stage is that a buyer can inspect the property and because the process of closing is the same as a regular transaction, a buyer is assured of a good title. HUD properties come with condition reports and disclosures.
The negative: there are a lot more bidders at this stage. Owner-occupants are often allowed to bid first.
HUD Homes – These are homes that have been foreclosed by their lenders and because the loan was insured by the FHA, these homes go into the HUD inventory.
HUD makes the bidding process very transparent and fair.
Only bidders registered with HUD can bid on their properties. You need a registered real estate broker to bid on HUD Homes. Find one in our directory.
Investors are not allowed to bid on exclusive listings from 5-15 days.
Here are more websites with foreclosed and government-repossessed homes.
VA (Department of Veteran's Affairs) – https://listings.vrmco.com/
Customs – https://www.treasury.gov/auctions/treasury/rp/
Federal Deposit Insurance Corporation –https://www.fdic.gov/buying/owned/index.html
Internal Revenue Service – https://www.treasury.gov/auctions/irs/
Real Estate right of redemption 180 days after the sale.
US Army Corps of Engineers – https://disposal.gsa.gov/s/
U.S. Marshals Service – https://www.usmarshals.gov/assets/sales.htm
USDA – https://properties.sc.egov.usda.gov/resales/public/searchSFH
Freddie Mac – https://www.homesteps.com/
Fannie Mae – https://www.homepath.com/
Bank REOs – realtor.com, https://www.auction.com/, https://www.hubzu.com/
General Services Administration – https://disposal.gsa.gov/s/searchproperty?state=ALL&type=ALL
Not sure where in Florida to buy an investment property? Read our guides:
Florida Real Estate Investment Guide