Is one type of flooring best for all possible locations and rentals? The answer is no. Before choosing a floor, consider the following: the location and use of the rental, price, ease of installation and removal, local tastes, and potential liability.
Why the Location and Use of the Rental Property Matters?
By location, I don't necessarily mean the state where the property is located although that's important for different reasons. Flooring materials react differently to humidity, direct sunlight, and other factors.
For example, lately the most recommended flooring for rentals has been the Luxury Vinyl Flooring (LVF), however, that is not the best type of flooring you can install in a location that's sunny all the time. Maybe you can, in your own house, and keep the shades drawn but not in a rental property. 
Below is a photo of LV flooring,  installed in a living room with direct sunlight. The floor is one year old. The top layer is separating from the core, possibly because of the expansion-contraction that's happening because of the excessive heat.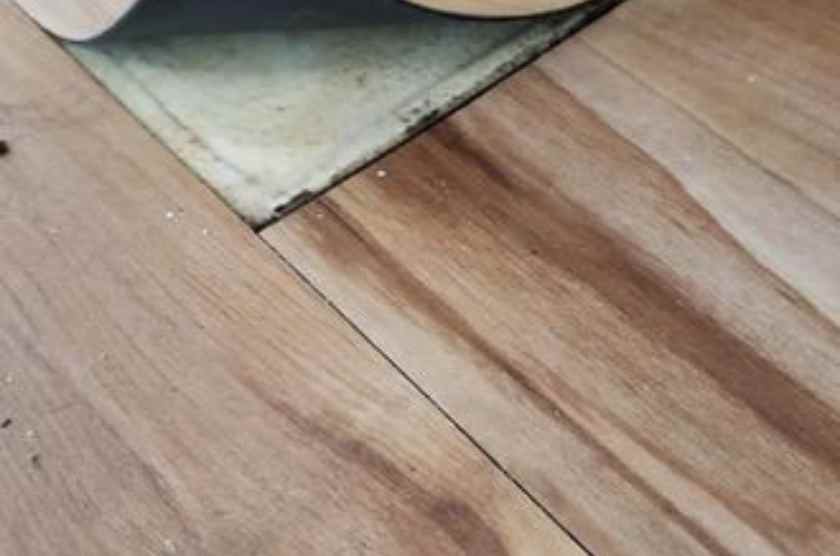 Consider where the property is located and what kind of wear it will see. For example, for a beach rental, I would not consider anything else but tile even though the installation is more expensive.
In condos and apartments, installing tile, or nailed or glued down flooring may be problematic because of noise and Association rules. 
The location of the property also matters because of what's customary in the state. In Florida, for example, installing tile everywhere including the bedrooms is perfectly acceptable and the best choice for a rental property. In Virginia, having tile in the bedrooms will look out of place.
What about liability? 
A study from 2015 found that most vinyl floors contain phthalates, a substance that's not been allowed in children's products since 2009. Some people are also allergic to adhesives and to volatile organic compounds (VOCs)  used in some types of flooring.  
All of these considerations need to be balanced with price and ease of installation. When you compare prices, compare them installed even if you think you can do the installation yourself. 
Keeping all that in mind, here are the best types of flooring for a rental property, rated one to ten.
| | | | | |
| --- | --- | --- | --- | --- |
| | Durability | Desirability by Tenants | Cost to Install | Our Rating |
| Ceramic Wood Tile | 10 | 9 | 4 | 8 |
| Luxury Vinyl Plank (LVP) | 5 | 9 | 6 | 7 |
| Luxury Vinyl Tile (LVT) | 5 | 9 | 6 | 7 |
| Stained, Sealed Concrete | 10 | 4 | 8 | 7 |
| Ceramic Tile | 10 | 6 | 4 | 7 |
| Engineered Wood | 6 | 9 | 7 | 7 |
| Wood | 7 | 10 | 5 | 7 |
| Laminate | 3 | 7 | 8 | 6 |
| Carpet | 2 | 2 | 10 | 5 |
Clearly, Carpet is the worst choice for a rental followed by laminate. The best choice is Ceramic Wood Tile followed by LVT, LVP, Engineered Wood, Wood and Stained, Sealed Concrete.
Pros and Cons for Each Type of Flooring
Ceramic Wood Tile
Pros: Durable, looks great and it has a high ended look than the LVT. This is a great choice for rental properties in the south and in areas with high moisture.
Cons: Cost of installation, Grout needs to be cleaned and maintained. Tiles can crack. Tiles can be cold and not appropriate for some states.
Luxury Vinyl Plank LVP and Luxury Vinyl Tile LVT
Pros: Moisture-resistant and durable. It looks great. Floating LVP can be installed over almost any surface. Less expensive than tile and wood and easier to install. Less maintenance than tile. Good quality LVP Flooring can have wear layers with  30 plus years of life.
Cons: It could delaminate and fade under direct sunlight. Tiles and planks can separate and buckle if the subfloor is not smooth and level.
Stained, Sealed Concrete
Pros: Low maintenance, waterproof. It's inexpensive only if you know how to do it yourself.
Cons: It doesn't look good on all types of properties. It's a good fit for modern homes but it could look out of place in traditional homes. 
Engineered Wood
Pros: Looks like real wood because it has a tin layer of wood on top. It is less expensive than wood and it's more stable than wood. The floating planks are easy to install over any floor. It can be refinished once. It's more scratch-resistant than wood. 
Cons: The core of the engineered wood is MDF, which is not moisture resistant. The MDF can emit volatile organic compounds (VOCs) and some tenants may be allergic to them.
Wood
Pros: The Look. Nothing looks and feels better than a well-maintained wood floor. This may be the perfect floor for a high-end rental.
Cons: Price and maintenance. Wood can be refinished at a cost of installing a mid-grade LVP. Refinishing is not a DIY job (I know from personal experience) Wood flooring is not moisture resistant and not easy to repair.
Laminate
Pros: Price and ease of installation. Laminate also looks pretty good and tenants seem to like it overall. 
Cons: Laminate can chip and buckle if not installed properly. Area with great expansion and contraction can also increase the gaps between the planks.
Carpet
Pros: Initial price and feel for northern states.
Cons: Long-term cost. You have to replace the carpet every couple of years and pay for professional cleaning and sometimes repair, every turnover. A low-grade carpet in a rental will not last more than 5 years if that. 
Carpet is the number one reason for disputes over security deposits.
Carpet is bad for tenants with allergies. 
The overall best choice for flooring is either Wood Look Ceramic Tile in states with a hot and humid climate or Luxury Vinyl Plank or Tile. The most recommended brand for durability and price for LVP and LVT is TrafficMaster, sold by HomeDepot and manufactured by Amstrong.
Carpet is the worst possible choice for flooring for a rental property no matter where your property is located. 
I personally like engineered wood flooring. I've had it in my own house for many years with pets. It shows some scratches but I found the floor to be very durable.
In the end, your choice will be a balance between initial cost, durability, and acceptance by your local market.